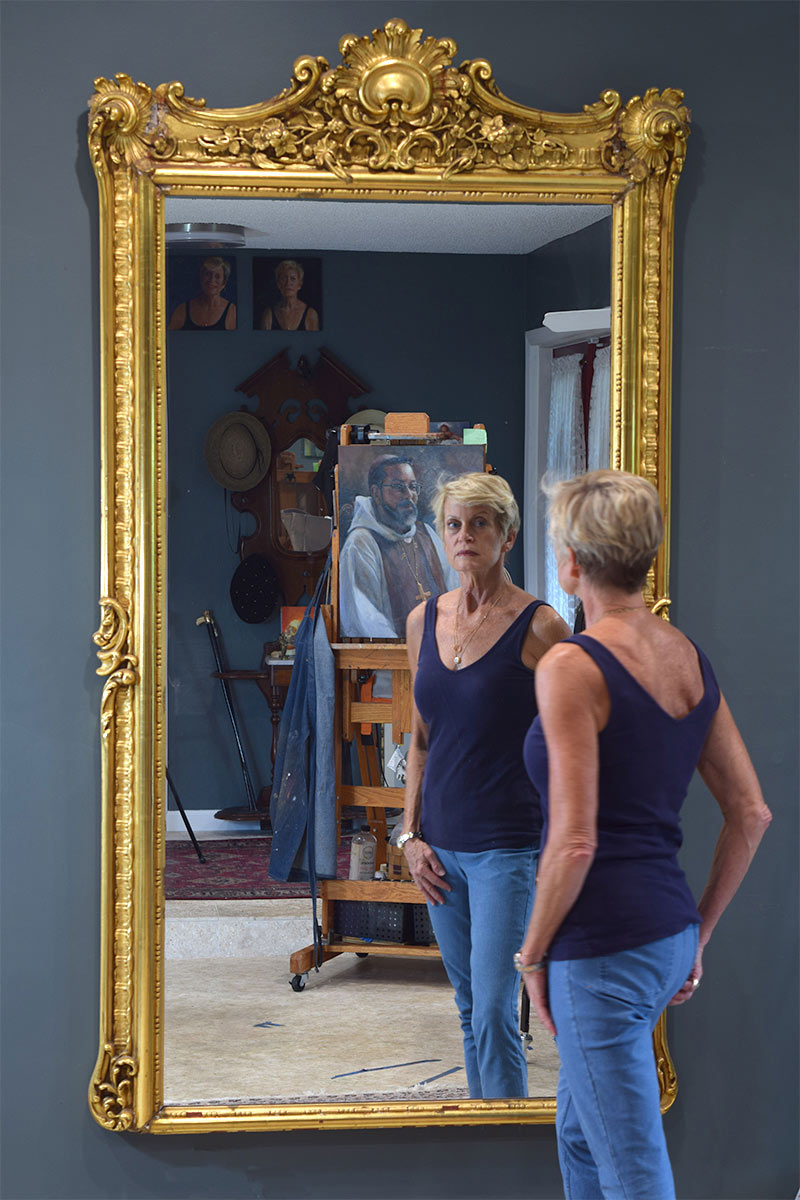 Elizabeth Reed Biography
Elizabeth Elvart Reed never thought she would live in Florida. After sailing from Chicago to the Florida Keys in 1979, she only imagined living in South Florida on a sailboat. But, when she returned in 2000, she saw the diverse people and unique places from a new perspective.
Elizabeth works from life or observation. Her work is fresh, exciting, and relevant. The latest paintings of The Everglades and the Atlantic Ocean celebrate the incredible place she calls home. She paints en Plein air at sunrise and sunset to catch the intense light show that lasts for only a few minutes—painting fresh color notes on-site and completing the work in her studio from memory.
Elizabeth's paintings and drawings capture the spirit of people and places. The FAÇeADE Project is a collection of fine art oil portraits of her colorful South Florida community. Each was painted from life while recording an interview. Exhibiting the paintings in a group makes them appear like interlocking pieces of a puzzle. The group celebrates our differences and similarities.
Teaching painting is one of Ms. Reed's passions. The excitement builds when she talks about light and color. She relates life to color theory. Elizabeth has trained her eye to see light as color, constantly observing the complimentary split of the spectrum at sunrise and sunset. 
Elizabeth grew up sailing on Lake Michigan. Her travels have taken her sailing the Great Lakes, the East Coast, The Florida Keys, the Bahamas, the Caribbean, and Puget Sound. While living in East Sussex, England, she traveled through the UK and Europe. She lived and painted in Italy for a year and has traveled to Dubai, Singapore, Bali, and Southeast Asia. Painting people and places along the way.   
Elizabeth studied drawing and painting at The School of the Art Institute of Chicago and The University of Kansas at Lawrence. Her undergraduate education was interrupted by running her Marine Canvas Shop called Watercolors. The shop produced canvas products for small sailboats and grand yachts in Florida and the Caribbean. She and her team prided themselves with the highest quality marine canvas products designed from years of sailing experience. 
The shop was named Watercolors because Elizabeth longed to return to art school. She did return and, in 1994, earned her BFA in Illustration at Cornish College of the Arts in Seattle. Her great honor was that her watercolor was featured on the famous Pike Place Market Festival Poster that year.
Elizabeth is now working on what she considers her master's degree. She regularly studies figurative drawing and painting with Steven Assael of New York. 
Additional workshops with Alyssa Monks, Vincent Desiderio, David Jon Kassan, and Duane Keiser add to her artistic knowledge. In addition, she continues her exploration of sculptural anatomy with Andrew Cawrse at Anatomy Tools in Las Vegas. 
As an art professional, Elizabeth taught drawing and painting at The Armory Art Center, The Boca Raton Museum School, The Coral Springs Museum of Art, and ArtServe. In addition, she will be teaching a summer intensive portfolio building class at The Coral Springs Museum of Art and invites private students to her Coral Springs studio.
Her award-winning work shows in local, national, and international exhibits. She is a past board member of The National Association of Women Artists, where she exhibits online and in New York. Her "Portrait of Astrid" was published in North Light Books' "Art Journey, Portrait and Figures." The first interactive exhibition of The FAÇeADE Project will open in November 2021 at St. Mary Magdalene Episcopal Church in Coral Springs, FL. Inside Out, an interactive self portrait workshop will accompany the exhibition.