Custom Oil Portraits
Commission a Celebration of Someone Special
Art you'll cherish forever
You become part of a legend when you commission a custom oil portrait. A portrait tells a story to preserve the memory of someone special. Celebrate the spirit of that person with a timeless piece of art that you will love forever.
The way you honor someone shows the world how much they mean to you. Your special version of that legend defines your unique image. Portraits tell stories that stand the test of time.
Elizabeth Reed draws from her lifetime of artistic development when she paints portraits. Her passion is to paint the emotional exchange of the human condition. Every portrait tells a story about the face that looks back through the surface. This is a unique and beautiful way to honor a special person or place.
Commissioning a portrait is not a quick process. Portraits take thoughtful consideration, careful planning and aesthetic choices. A portrait is not a typical gift. Discerning savants choose distinctive ways to honor time.
Not everyone will spend the time to commission a portrait. Unexceptional people might not consider custom oil portraits. Only individuals who have the vision to make a mark in time will make the effort.
This is a spectacular choice. Careful planning and communication with the artist will produce a fabulous tribute. A commissioned portrait is a tribute to your subject as well as yourself.
So be fabulous! Start the portrait commission process with Elizabeth Reed. Write your own legend now.
The Process of Painting a Portrait on Zoom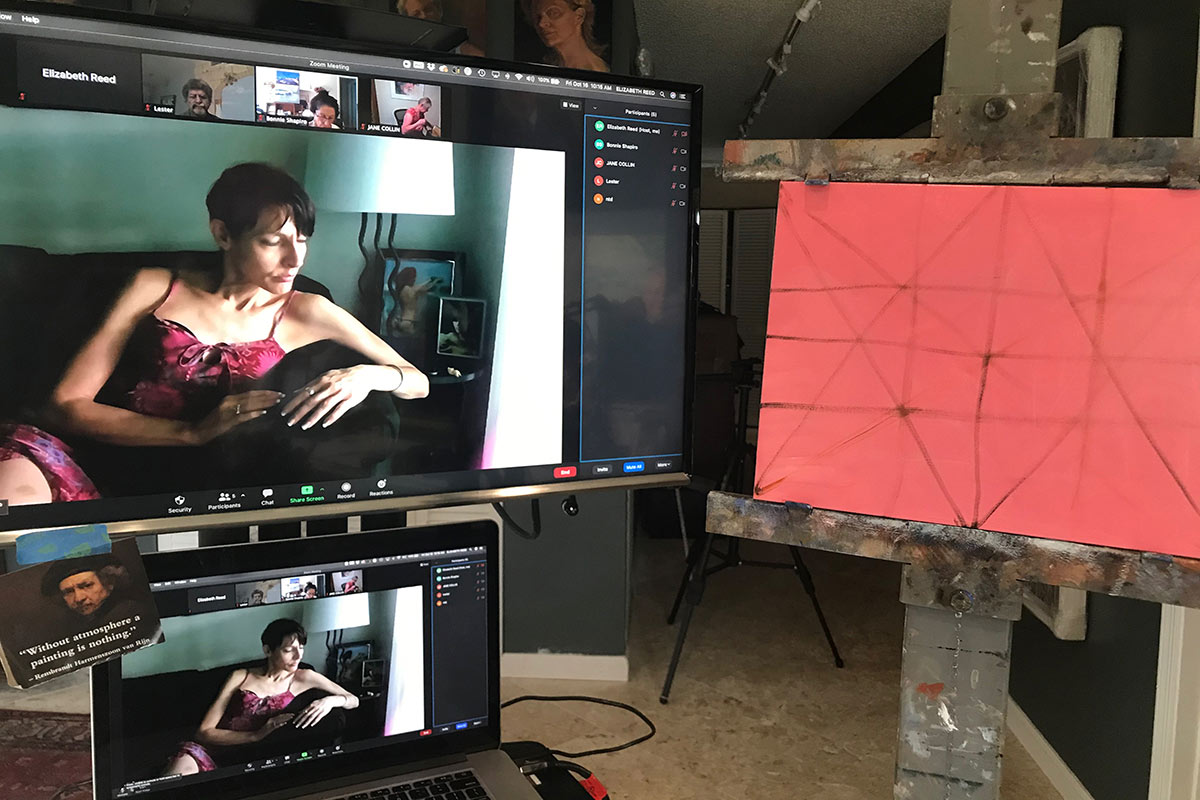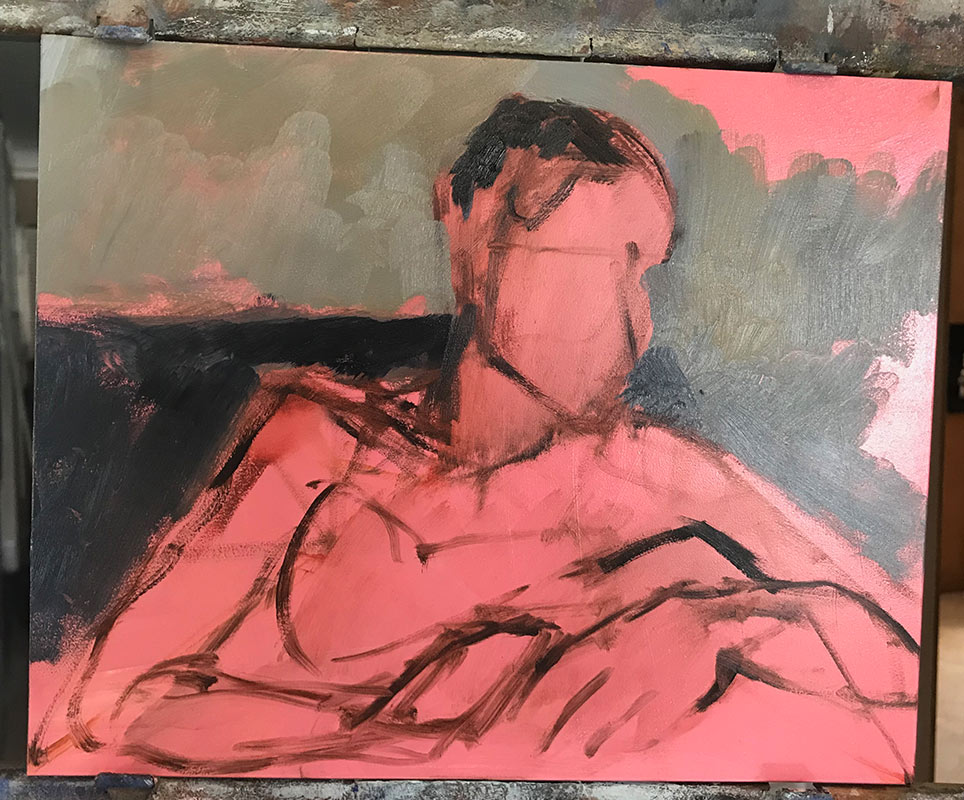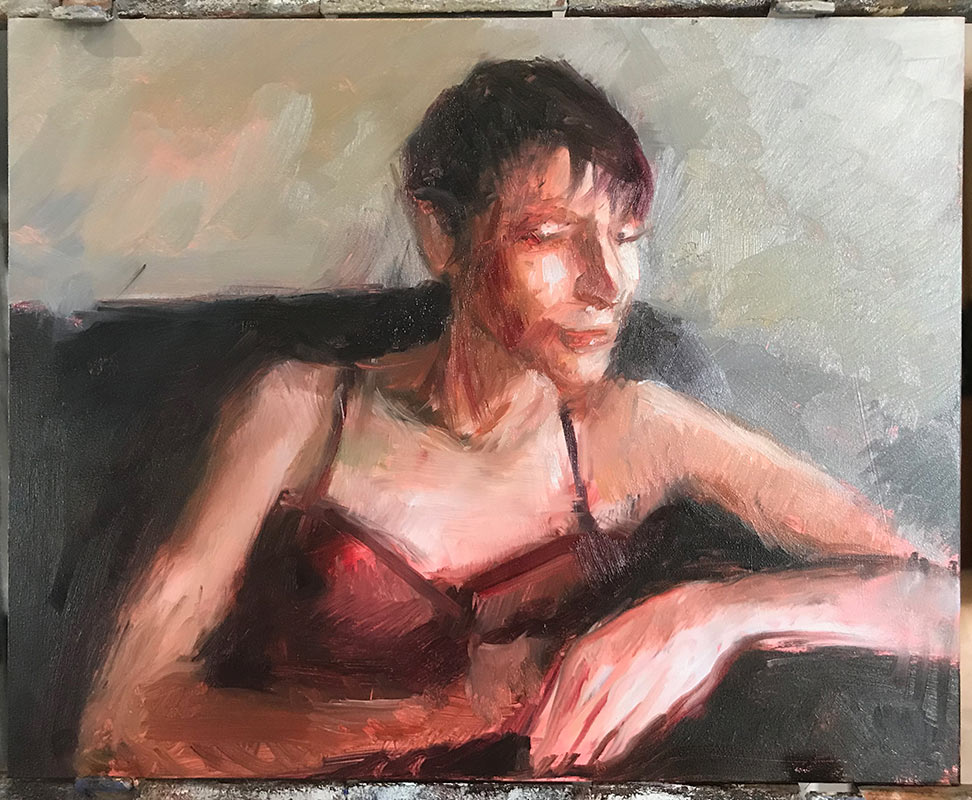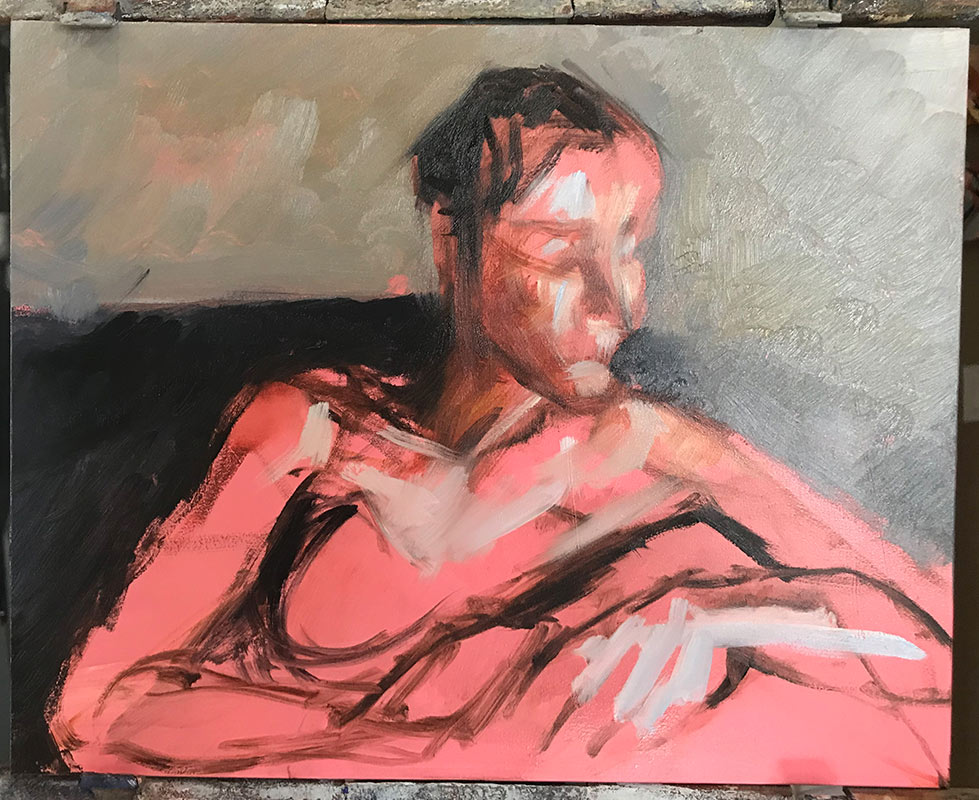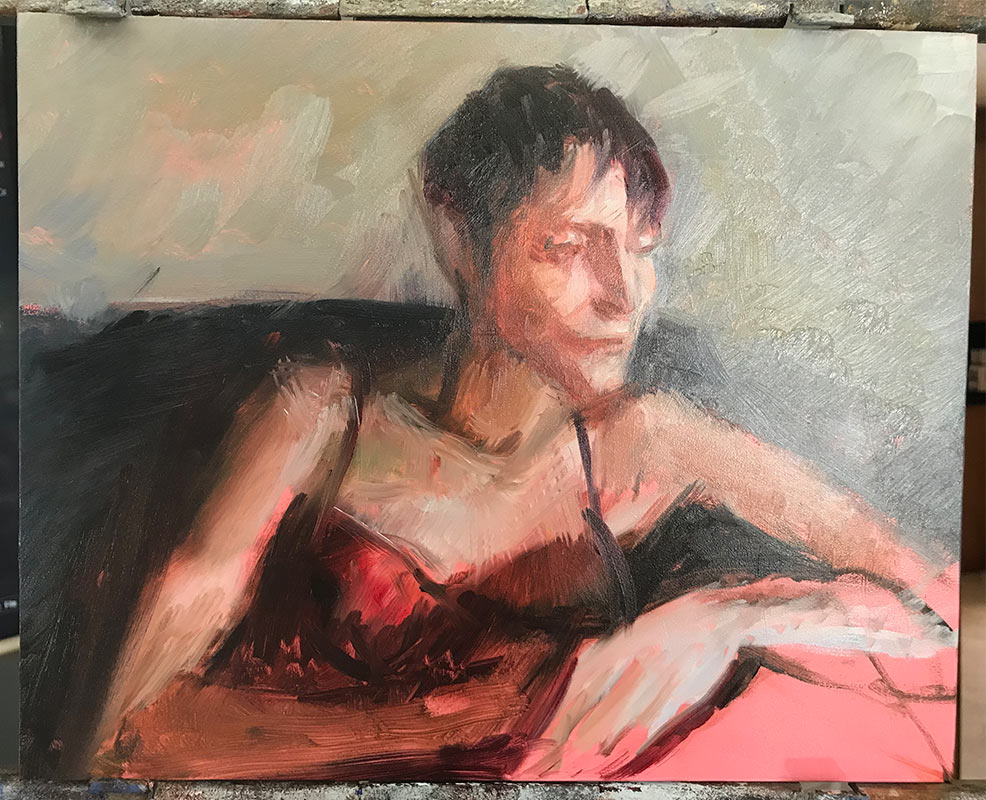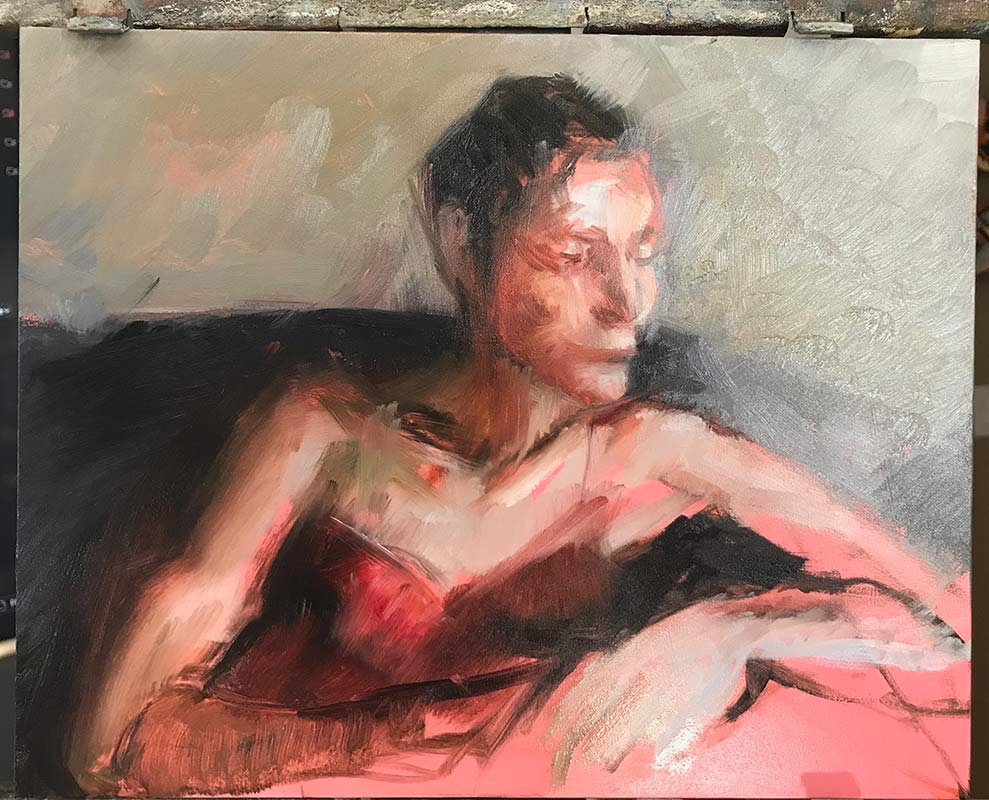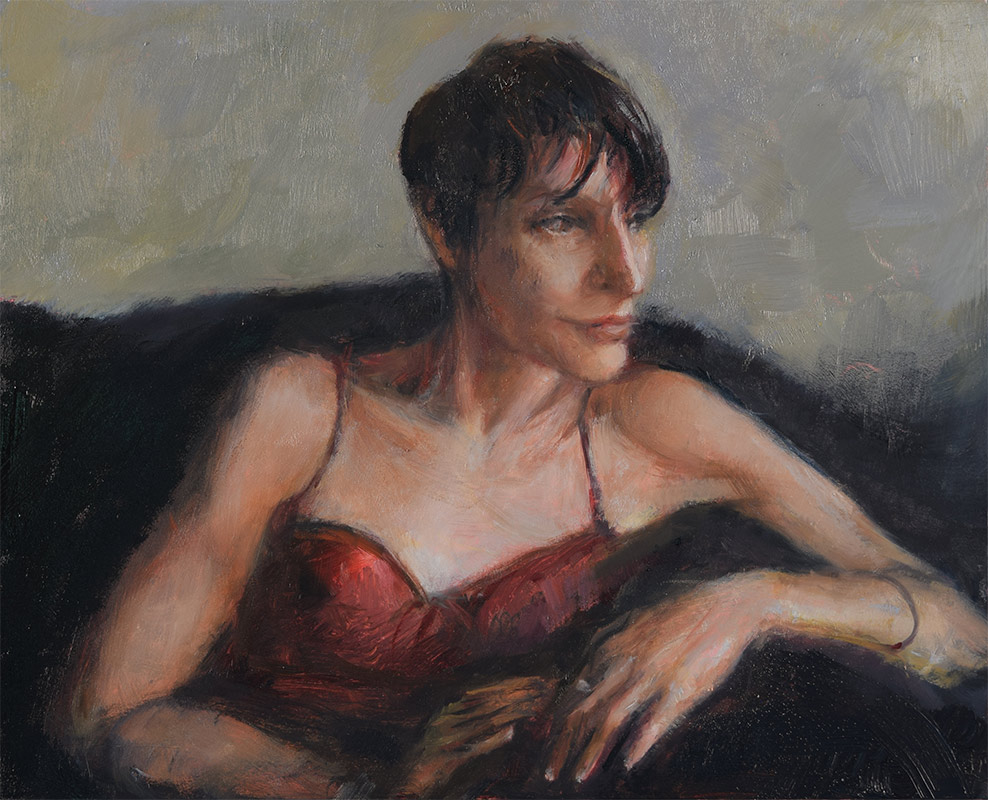 Portrait of Noelle
8 x 10 "
Oil on Board
Preliminary Discussion You have decided to commission a custom oil portrait with Elizabeth. First, we discuss your idea and your budget.
We determine the price from these factors:
Settings and clothing

Number of people

The size of the portrait

Full body or hands and arms

Level of completion
Drawings are no less powerful than an oil painting. They are more cost effective and very beautiful. I will also work with your budget and your requests for detail for pricing a drawing. You may decide to commission a custom portrait in charcoal, graphite or silver point.
Here are some of my award-winning drawings.
You have considered all the details and ordered your portrait. After a 50% deposit, I photograph the subject and setting. A live sitting would be ideal, if possible. We can also meet on zoom. I will work from photographs or videos you provide if they give me necessary information.
I often request a video of someone I have not met when I work from photos. It helps me understand how they move, smile and gesture.
I will send you periodic progress photos for your approval.
Completion and Delivery Upon your approval of the completed portrait the remaining 50% of the balance is due.
You can come to my studio to pick up. I have a list of fantastic framers to complement the portrait. Shipping and delivery costs are not included in the price.
Gift Certificates of any amount are available.
Testimonials about Fine Art Portraits by Elizabeth Reed
I was fortunate to meet Mrs. Reed on the Italian island of Giglio in 2012.  She was in Italy studying under David Jon Kassan and I, along with her husband, was contracted to support the wreck removal of the sunken cruise ship Costa Concordia.
While she was not studying, Elizabeth would apply her talents capturing the many hardened and hearty eccentrics working the project.  Her ability to reach into the soul of a subject and capture their character on canvas gripped me.  I learned more of these people in her paintings.   Simply put, there is a humility to her work that people did not know to find in themselves.
In 2017 I married a woman very much adored by her father.  I knew it was difficult for him to let her go and I needed to express some degree of understanding in that regard.  I decided to commission my first painting as a gift to her parents and went straight to Elizabeth.  She had never met my bride.  Yet  through pictures, a brief autobiography I wrote and some great conversation, Elizabeth was able to capture her for who she is. Her strengths shine in the portrait, as does her fragility.
Forever Grateful and Inspired